EPS Group Supports Student Success Through Outdoor Immersive Learning Environments (ILE)
As schools seek to integrate evolving technology and broaden education delivery methods, the outdoor immersive learning environment (ILE) is a fairly new concept many campuses have begun to embrace. The outdoors offers a sensory-rich environment where students can supplement the lessons taught in textbooks with hands-on experiences. By actively participating within an environment that is highly interactive, students are connected emotionally to the learning experience.
Reconnecting children with the natural world is one goal EPS Group's creative teams strongly support. EPS has recently brought a variety of innovative ideas to several outdoor ILE projects across Arizona, threading education, environment and fun through every part of the landscape environment.
"The outdoor ILE gets students out of the classroom and into what is essentially a living laboratory," said Tom Snyder, Director of Landscape Architecture. "It allows the indoor class curriculum to expand, providing opportunities for students to interact with nature. The ability to touch, observe, listen and smell – these immersive activities grab and hold their attention."
ILE education has advanced in different ways for many campuses. Traditional classrooms have been transformed to meet the demands of the newest learning programs, while widening them to include the entire school grounds. Learning opportunities out-of-doors allow students to gain fresh perspectives on science, health, wellness and environmental stewardship concepts, to name a few, in ways that complement their individual learning style.
"No matter how students learn, they're getting something out of these environments to aid in their academic success," Snyder said. "Outdoor ILEs have the potential to bring the subject matter to life. It gets students involved and makes them care. They become more engaged with each other, along with the world around them."
To support these applied experiences, EPS Group created unique learning gardens that provide students with opportunities to see their classroom education come to life. Teachers, too, have the opportunity to build on their own skills and connect with students in ways not possible through traditional learning practices.
On a recent project at a college preparatory high school, EPS Group created an environment where students are able to study rainwater harvesting and see how rain is collected and moves through the space. The water is used for irrigation and other purposes throughout their school.
Students in Marana, Arizona, are able to witness firsthand the benefits of sun and wind power, rainwater harvesting and the use of desert native plants, and they can then apply the concepts learned in the classroom to the desert landscape in which they live.
In the Phoenix School District, kindergarten through eighth grade students can use their learning garden to study health and wellness. Community spaces are available for spontaneous learning throughout the school campus.
"When learning is hands-on, it can be so much more effective. Studies have shown that when students are thoroughly engaged in a program, they perform better on tests," said Valeria Bravo, a landscape designer with EPS Group. "The outdoor spaces we helped create for these schools allow teachers and students to take part in experiences that were almost unheard of a decade ago."
These projects, and other ILE projects like them around the country, provide students with an impactful way to learn. Through continued collaboration with school districts, interior designers and architects, EPS Group's Landscape Architecture Department is able to offer a platform for hosting new educational experiences that are stimulating, motivational and which will benefit students of all ages for years to come.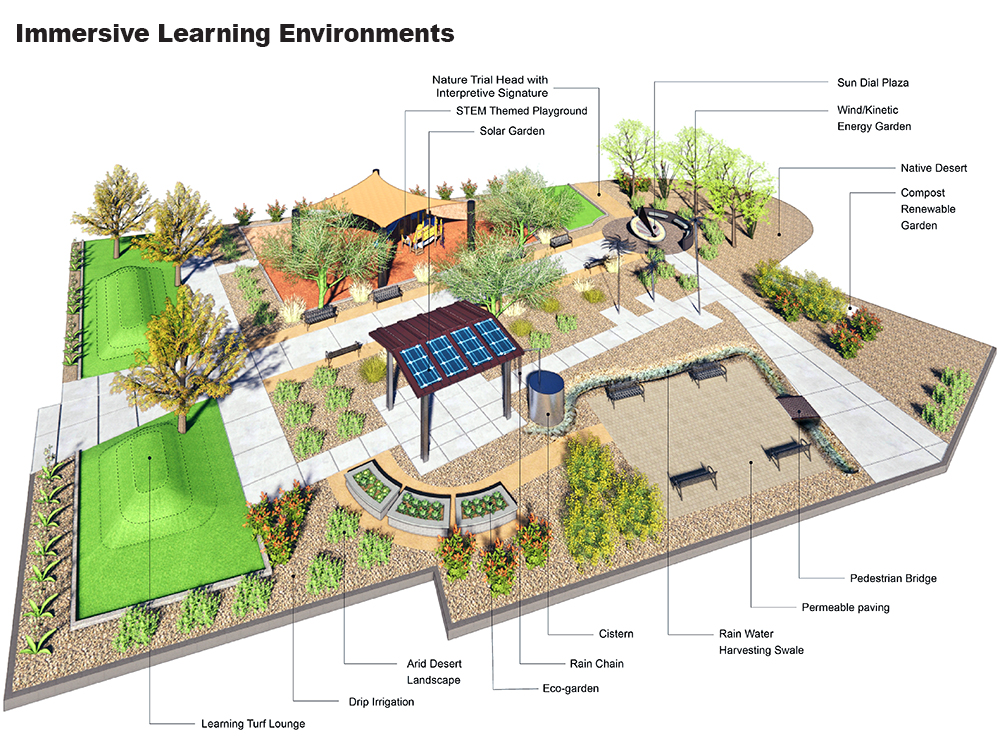 Immersive Learning Environments can take the classroom outdoors to provide students a hands-on approach to education. The illustration shown above is an example of how capturing aspects of the Science, Technology, Engineering and Mathematics (STEM) program in a well-designed landscape can encourage discovery while exposing students to practical solutions for today's water and energy challenges here in the Desert Southwest.