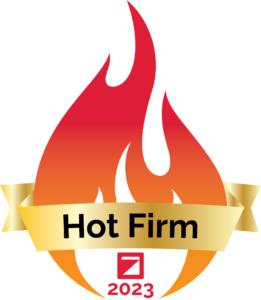 EPS Group Ranks #45 on the 2023 Hot Firm List, Reinforcing Growth and Success in the AEC Industry
We are thrilled to announce that EPS Group has been recognized on the esteemed 2023 Hot Firm List. The research and consulting services of Zweig Group are a leading firm for the architecture, engineering, environmental, planning, construction, and related professional services (AEC) industry. This prestigious ranking acknowledges the remarkable growth and success achieved by our firm and solidifies our position as a leading player in the industry. Furthermore, as the highest-ranking firm based in Arizona, it demonstrates our dedication and commitment to delivering exceptional services to our community.
Building on Momentum
Our inclusion on the 2023 Hot Firm List comes hot on the heels of our recent recognition as ENR's Top Southwest firm. This year marks our first appearance on the Hot Firm List, adding to our growing list of accolades. It is a testament to our consistent growth and our ability to adapt to the evolving needs of our industry. We take immense pride in this achievement, as it showcases our mission: our commitment to quality, responsiveness, and innovation to Arizona and beyond.
"EPS Group is proud and honored to be included in this incredible group of companies, thank you Zweig Group for recognizing our team."

— Kathey Wagner, CEO at EPS Group

"This is a well-deserved recognition of our team's hard work and our exceptional growth. This accolade inspires us to reach even greater heights in delivering innovative solutions to our clients and solidifying our position as industry leaders."

— Josh Hannon, Director of Planning and Landscape Architecture at EPS Group
About Zweig Group
"Growth is the ultimate measure of business success and the 2023 Hot Firms are leading the industry," said Zweig Group CEO Chad Clinehens. "Focusing on culture, investing in marketing, and embracing change are just some of the things these firms are doing to drive growth."
Zweig Group, three times on the Inc. 500/5000 list, is the industry leader and premiere authority in AEC firm management and marketing, the go-to source for data and research, and the leading provider of customized learning and training. Zweig Group exists to help AEC firms succeed in a complicated and challenging marketplace through services that include: Mergers & Acquisitions, Strategic Planning, Valuation, Executive Search, Board of Director Services, Ownership Transition, Marketing & Branding, and Business Development Training. The firm has offices in Dallas and Fayetteville, Arkansas.